General Info
PrepArm Localized Exhaust Ventilation
PrepArm Localized Exhaust Ventilation Systems (LEV) capture noxious fumes at the source, contributing to a safe working environment. LEV systems, recommended by the National Association of Funeral Directors (NFDA) and The National Institute for Occupational Safety and Health (NIOSH) are supplemental to whole room exhaust. Single and double arm models accommodate multiple prep room configurations.
Safety

Engineered for localized extraction of noxious vapors. Protects embalmer's respiratory system and prevents fumes from entering the general airstream in the embalming room.

Maneuverable

Chemically resistant arms rotate and swivel through 360 degrees and lock into place. Folds away when not in use.

Functional

Captures noxious fumes at the source. Lighted transparent hood prevents splatters or chemical bursts from reaching the embalmer's face.
Single Arm
PrepArm LEV2 Single System – DST 111
| | |
| --- | --- |
| Mounting | Mounts to structure above a lay-in ceiling or directly to a sheet rock ceiling |
| Arm Length | 4" x 66" |
| Construction | Anodized aluminum and polypropylene |
| Hood |  Low optical distortion acrylic with LED light |
| Fan | FF Fan, 115-208/230v, 1 ph with fan bracket |
| Options | Manual fan starter switch and protective grill included |
Double Arm
PrepArm LEV2 Double System – DST 112
| | |
| --- | --- |
| Mounting | Mounts to structure above a lay-in ceiling or directly to a sheet rock ceiling |
| Arm Length | 4″ x 66″ |
| Construction | Anodized aluminum and polypropylene |
| Hood |  Low optical distortion acrylic with LED light |
| Fan | C Fan, 115-208/230v, 1 ph with fan bracket |
| Options | Manual fan starter switch and protective grill included |
Tech Info
Technical Info
Browse through our literature for additional information.


Related Links:
Idea Gallery  |  Testimonials  |  PrepAir Information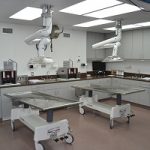 The rooms are wonderful and really functional with a layout that puts everything at your fingertips. In Pocomoke and in Salisbury, the embalmers can be in self-contained environments. The staff loves it.
Read more "Holloway Funeral Home"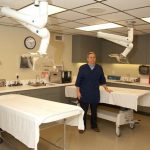 Your services exceed all business standards. Every funeral home that has a prep room should have the standards Duncan Stuart Todd does.
Read more "Wilmington Mortuary Service"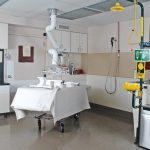 We are very pleased that PrepArm was introduced into our funeral home. It has enhanced safety measures for our technicians. Our general HVAC system does turn air over quite frequently but the PrepArm eliminates my concern over what I call "formaldehyde bursts" at the point of injection.
Read more "South Jersey Funeral Associates"