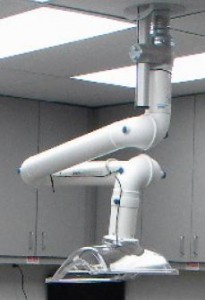 PrepArm is a product for localized exhaust ventilation in the preparation room. It captures noxious fumes at the source to contribute to a safe and clean working environment.
By capturing vapors at the source, PrepArm can prevent many airborne particles from entering the embalmer's respiratory system. PrepArm is especially beneficial for use when there is a high level of possible direct exposure to toxic fumes, hazardous odors or chemicals. Such instances might be open cavity work, aspiration and the filling of embalming machines.
The PrepArm system is composed of flexible chemically resistant arms connected by joints that rotate and swivel through 360 degrees. A damper in the articulated armcan be used to control air flow. A transparent hood with LED lighting attaches to the arm. The hood prevents splatters or chemical bursts from reaching the embalmer's face.
PrepArm, maneuverable in much the same way as an overhead light in a dental office, enables the embalmer to position PrepArm right where it is required. Once situated, the clear hood can be locked in place.
Features:
specifically for localized air extraction
prevents noxious vapors from entering the embalmer's breathing zone and the general airstream of the embalming room
made of chemically resistant material
light weight, easy to maneuver flexible arm
mounts on ceiling
single or double configurations
custom configurations available
transparent hood with low optical distortion attaches to arm
led lighting mounted in the hood
folds away when not in use
filtering system available